The massage is not meant only for tired feet and aching backs, Sore, stiff hands need massages too. For those of us who spend long hours typing at a computer or playing a keyboard instrument, the pain of sore fingers and wrists is real. After a long day at work, a warm and soothing massage for your hands sounds like heaven. Electric hand and palm massagers can help you get there.
In this post, we'll cover what electric hand massagers are, how they work, and the benefits they provide.
Then, we'll introduce 3 of the best hand massagers on the market to give you a good sense of what's out there.
3 Best Electric Hand Massagers Of 2021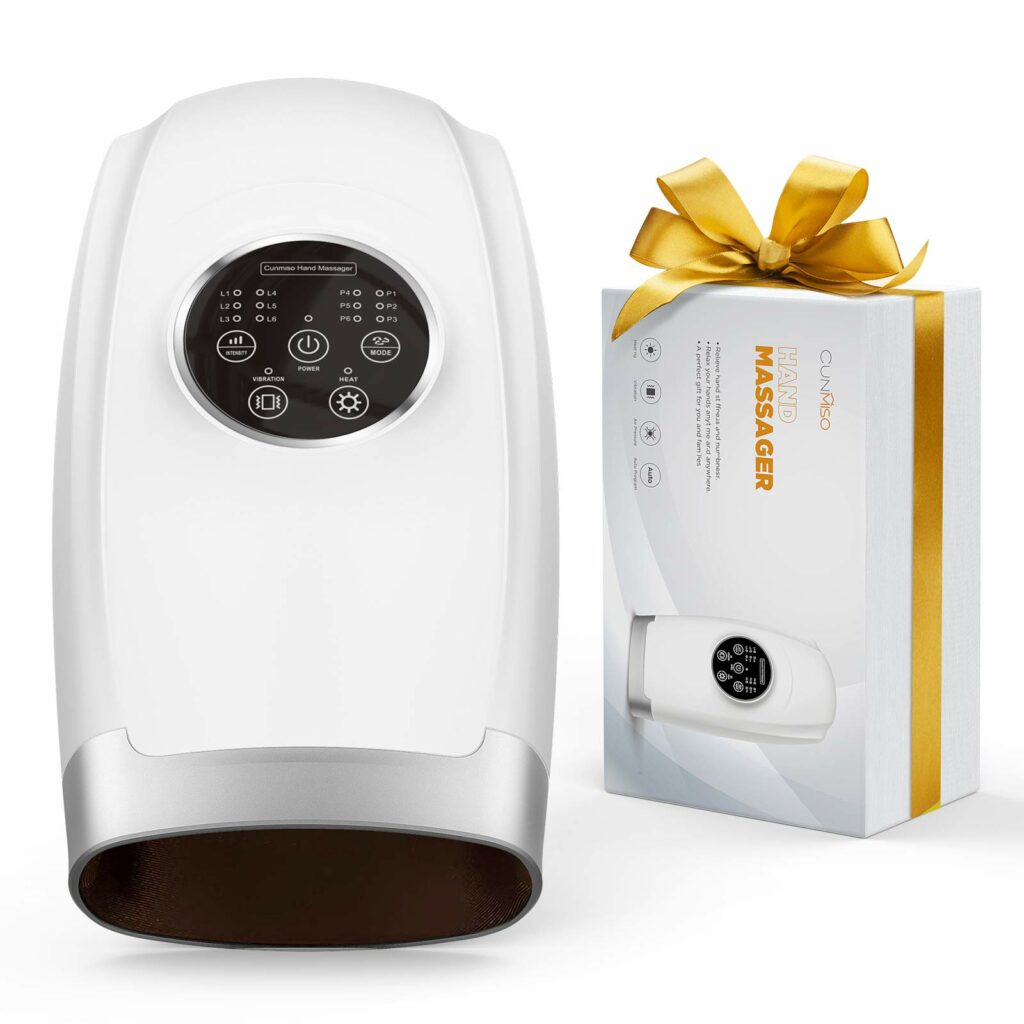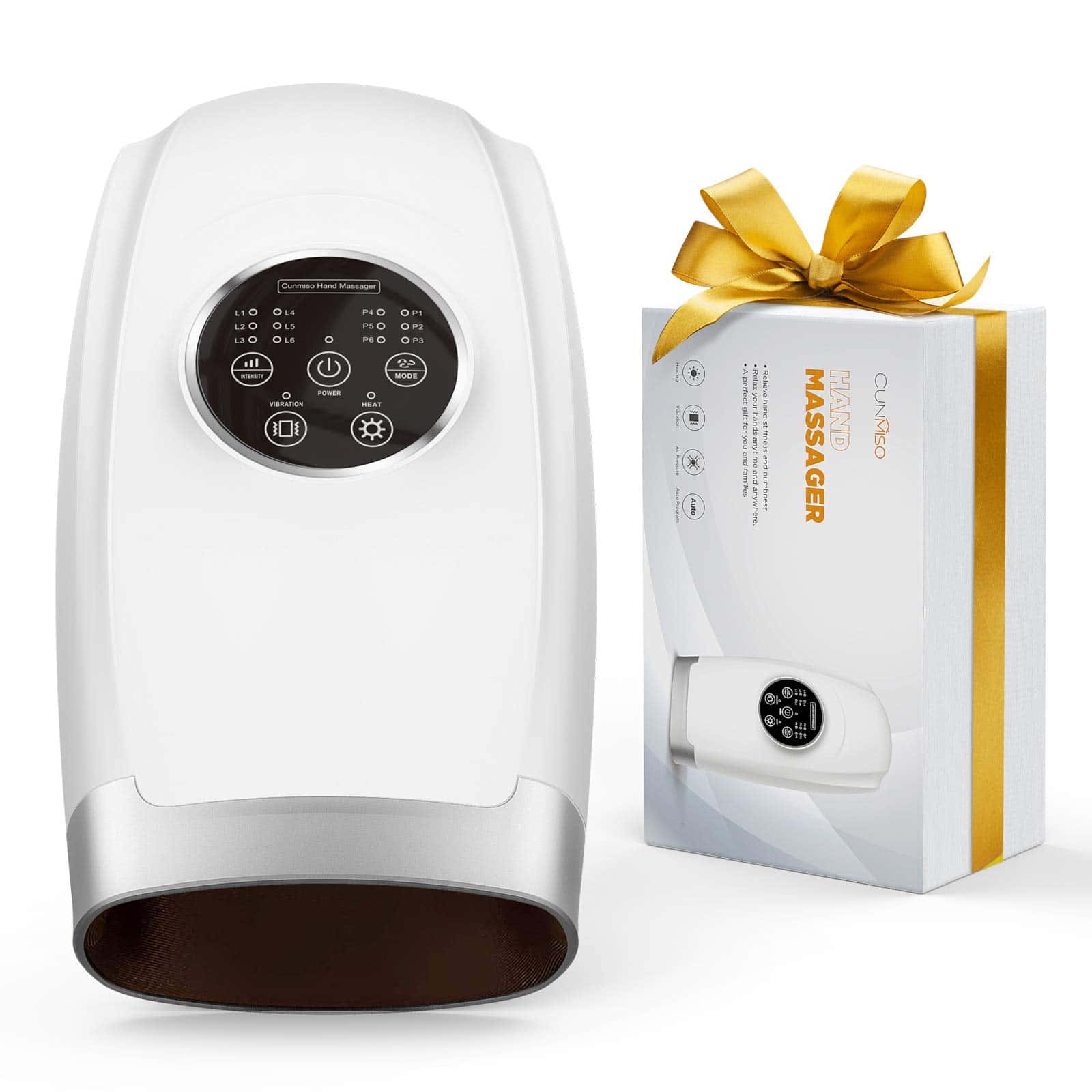 The Cunmiso Cordless Electric Hand Massager uses air pressure, heat and vibration to help relax and soothe the tense muscle instead of the traditional rolling technique. It offers six levels of intensity, six program modes, and two vibration options, so you can adjust it to get the perfect massage for you. It has a soft interior cushion to keep your hand comfortable.
The sleek design fits well in a home or a professional office setting. Alternatively, take it with you on the go. Silica gel at the bottom helps to fix the therapy massager without sliding. 2500mAh rechargeable battery ensures long-lasting using time. Charge it ONCE and you can use it FOR HOURS WITHOUT worrying about cords or outlets. Wireless design gets rid of plugging in and out.
Feature
Wireless hand massager would be a blessing to knock down all types of symptoms of Arthritis, like wrist pain, joint pain, tingles, and carpal tunnel syndrome tendonitis, especially senior citizens. 
6 adjustable modes to meet your needs
Pamper your hands safely with heating & vibrating
The premium quality ensures 100% comfort
2. HoMove Hand Roller Massager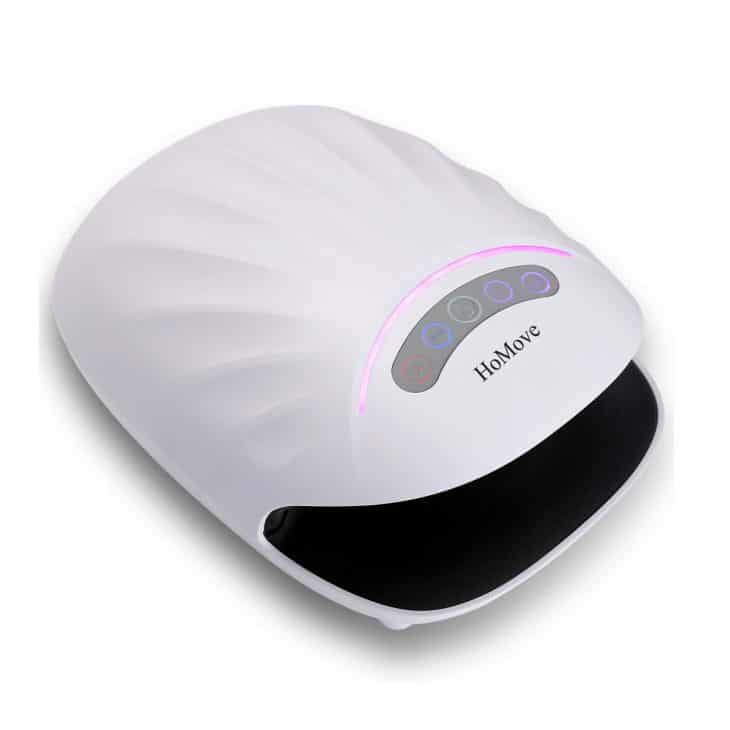 Applying a professional massage experience, the unit easily generates a soothing rhythm to offer an excellent point therapy reflexology. With the larger design interior, the hand massager perfectly fits all hands.
It has an optional heat setting that heats up to 107-degrees F for a great feeling. Additionally, it also has a built-in pressure deflation and inflation and with a 360-degrees compressive massaging point, it will leave the hands more relaxed.
Feature
Adjustable massage intensity
Reflexology like-kneading
Optional inside heat setting
5 groups of airbags
Built-in air pressure deflation and inflation
3. CINCOM Rechargeable Hand Massager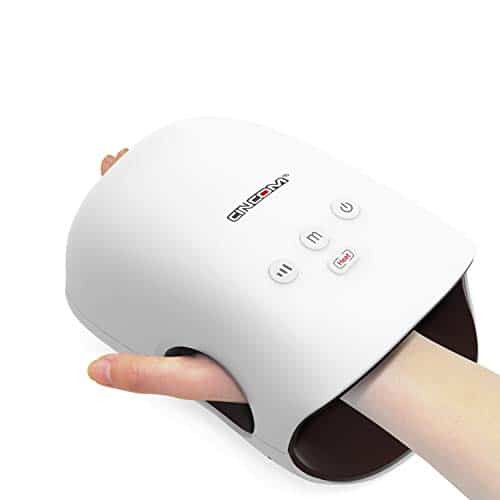 The CINCOM hand massager massages your fingers, palms, and wrists at 3 different intensity levels. It has small airbags that inflate and deflate to put localized areas of pressure on different points. While this does give you more of a massage feel, the intensity can feel low for some people.
However, people with fatigued, tight, and overused hands who just want to relax and experience the benefits of reflexology massage tend to be disappointed with this massager. If you just need heat and compression, however, the CINCOM can do the job for a lesser price than most electric hand massagers.
Feature
Kneading, Air Pressure, Heat 3 in 1
Adjustable & Use For Both Hands
3 Massage Modes & 3 Strengths With Optional Heat
Rechargeable & Portable
What Are Electric Hand Massagers?
As the name suggests, electric hand (or palm) massagers are electric massage devices that are meant to alleviate pain on your palm, wrist, and fingers. These devices usually employ techniques derived from traditional Chinese medicine to provide reflexology and acupressure-based massages. This helps release tension from the muscles and boosts blood circulation.
Benefits of Hand Massage
-Increased blood circulation throughout your arms, which can help prevent or improve conditions like carpal tunnel syndrome and tennis elbow.
-Loosens hand muscles for better range of motion.
-Relieves pain from arthritis.
-May relieve headaches through reflexology points.
-Helps you relax for a deeper sleep.
-Restores energy and balance in your hands after they're used for manual labor or repetitive movements like typing or piano playing.
-Improves the health and appearance of your skin by increasing blood circulation. When you apply moisturizing lotion, the massager can help it penetrate the layers of skin.
If you deal with stress, anxiety, or even headaches, the reflexology treatment hand massage provides could potentially help.
If you work at a desk and use a keyboard throughout the day, or if you do manual labor, it's especially important that you treat your hands with tender loving care.
Before you choose a massager, make sure you know what your goals are, then find the right one that's geared toward meeting your specific needs.